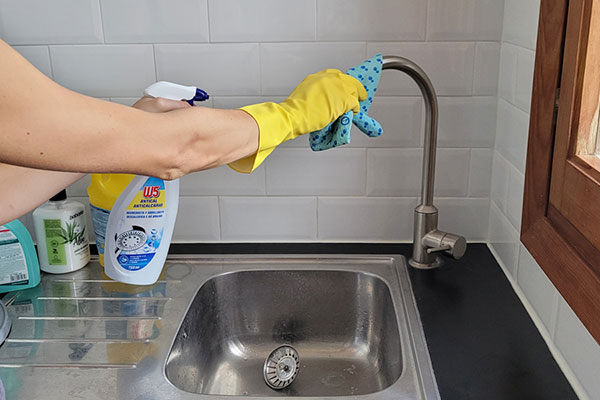 Change-over cleaning
This cleaning takes place in between clients departing and arriving.
Thorough cleaning of bathroom with change of shower curtain if needed.
Sweeping and mopping of all floors, stairs and terrace.
Cleaning of kitchen, including inside cupboards, oven, worktops and fridge. Fridge will be emptied and left to defrost.
Cleaning of windows and dusting of furniture.
Changing of bed linen, towels, tea-towels and bathmats.
Rubbish disposal.
N.B. Should the property need extra cleaning due to it being left unusually dirty or spoilt, additional hours will be charged accordingly. This is to ensure arriving guests can occupy the property in perfect condition.
Mid-stay cleaning
This cleaning takes place in the middle of the stay (minimum two weeks).
Sweeping and mopping the floors.
Cleaning of kitchen.
Cleaning of bathroom.
Changing of linen.
A general tidy up.
Rubbish disposal.
Cleaning on request
This service to take place on a special request basis. Client to specify what needs to be done.
Laundry Service
Pick up and delivery of owner's linen, which is then washed in the laundry.
Inventory and Storage
For those owners who have a problem with space or damp in their apartments.
Inventory of all linen.
Picking up and delivery from our garages.
Storage, in installations that are free from damp, for the necessary time.
General information about data protection Sa Caseta de Menorca SL (hereinafter, Sa Caseta de Menorca), as the responsible for this website, informs you that the personal data provided by filling in this form will be treated in order to address your inquiries and send you information of interest. By submitting the form, you legitimize Sa Caseta de Menorca and give your consent to this treatment and registration of your data. You can exercise your rights of access, rectify, limit the use of or delete by contacting the Data Protection Delegate in the ways indicated in our Privacy Policy, as well as submit a complaint before the Data Protection Agency.